California Dreaming: How Women-Run Cannabis Business Humboldt Apothecary Sets Themselves Apart
When it comes to cannabis, there are few geographic places in the country more associated with it than Humboldt County, California. That's one reason, along with their ethical business model and top-notch products, that Humboldt Apothecary is one of the finest names in recreational cannabis.
---
Tia (AskGrowers) : What's your brand story? How did you start Humboldt Apothecary?
Gillian Levy : We started Humboldt Apothecary in 2015 out of a desire to make effective products for a range of different needs. Our goal and focus were to make products that would be not only effective but also functional for your average user. That way people could feel relief from undesirable complaints without feeling overly sedated or "high."
---
Tia : Your website says, "We have a commitment to sustainable and environmentally friendly practices and quality ingredients." Where do you get those ingredients?
Gillian : We source a range of ingredients from around the country. We always prioritize purchasing organic ingredients when that option is available and we lab test all ingredients for contaminants before incorporating them into our products. All of the cannabis that we use comes from farms in Humboldt County and we get many of the herbs for our products from farms in Oregon.
---
Tia : How do you test your products?
Gillian : We do all of our product testings for R&D as well as "compliance testing" for the state with SC Labs, based out of Santa Cruz. We test the oil and flower that we purchase for potency and purity, as well as any newly sourced ingredients. Then we test the batch for potency before we ultimately package the product and submit samples for "compliance testing". This is mandated by the state of California to ensure that all products in California dispensaries are free of pesticides, heavy metals, and microbial impurities, as well as containing the potency that the product is stated to have based on label claims.
---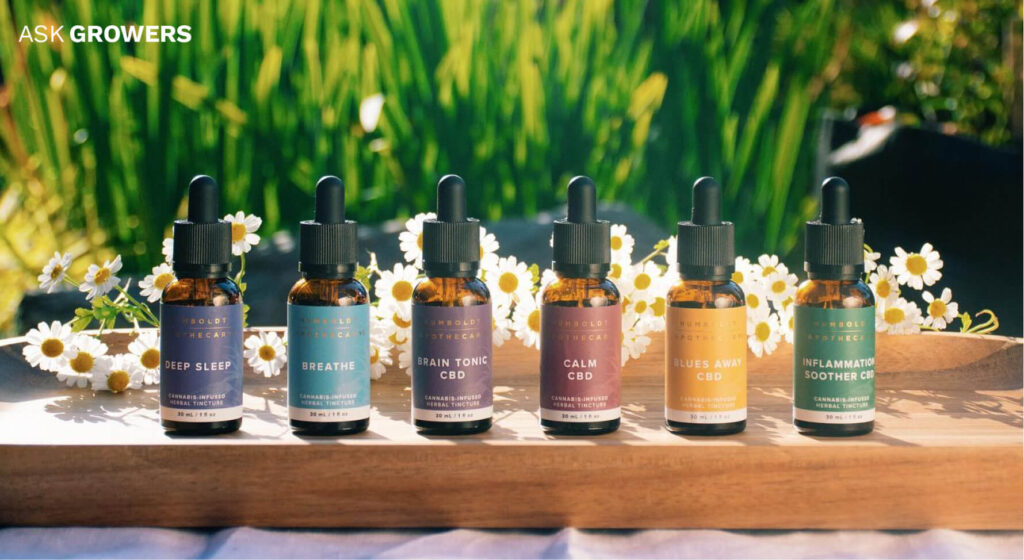 ---
Tia : What's the dosage of your CBD products?
Gillian : We recommend that folks start with smaller doses and work their way up to 1-2 mL of tincture. Because everyone is different, each person will have different needs and it's really better to start with smaller doses and work your way up as needed. Topicals can be applied liberally as needed.
---
Tia : How should customers use your tinctures?
Gillian : We recommend using our oil-based tinctures by placing the liquid under the tongue and holding it for 30 seconds. The alcohol tinctures can also be put into tea or water and consumed.
---
Tia : Are All your products hypoallergenic?
Gillian : No they are not. Cannabis is not hypoallergenic. Because most of the ingredients that we use are plant-based, some people will have sensitivities to them. However, the majority of individuals will not.
---
Tia : Why do you think cannabis enthusiasts should choose Humboldt Apothecary over other brands? What sets you guys apart from the rest?
Gillian : I think the quality of our products really sets us apart. Customers that love our products frequently tell us how effective our products are. We also offer a range of products that contain other botanical extracts, which is really our specialty. Those products are very effective because the cannabis works synergistically with other herbs.
Also, we are a small, women-owned business. We really do care about our customers. We will answer all of your questions if you reach out via email or social media and we stand behind the quality of our products AND customer satisfaction.
---
Tia : Do you work with dispensaries?
Gillian : We have a great team of individuals that work closely with dispensaries around the state.
---
Tia : What are your personal favorite strains to smoke?
Gillian : I'm a big fan of most of the purple strains because I love the relaxing effects. I really enjoy Ice Cream Cake and Biscotti these days!
---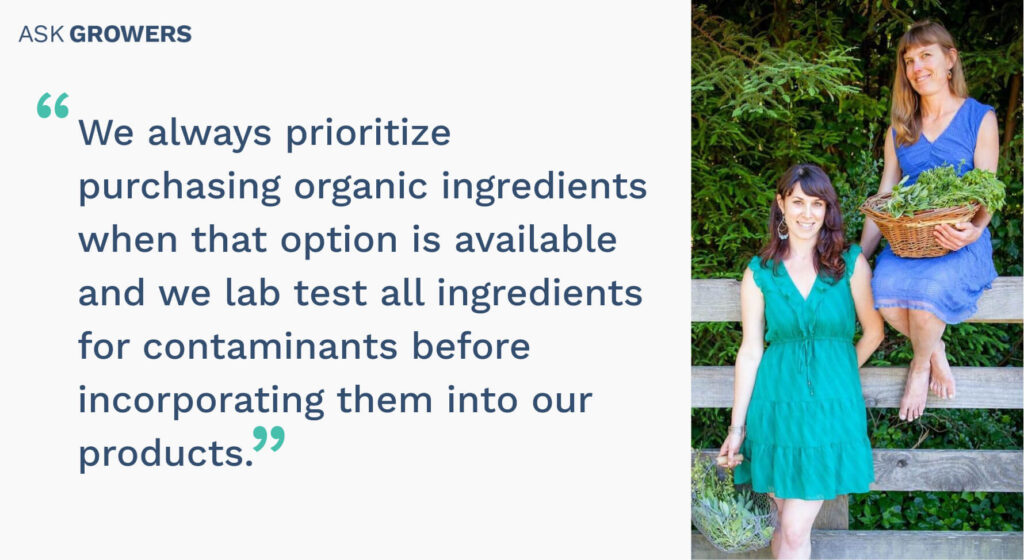 ---
Tia : Are there any brands/growers you appreciate and follow?
Gillian : I'm a big fan of many of the Humboldt farmers and the beautiful flower that they grow. Juniper, River Day Farm, Eel River Organics, Highwater Farms, Moonmade Farms, Sunboldt Grown. The list goes on as there are so many outstanding farmers in Humboldt County! My favorite pre-rolls are made by Juniper.
---
Tia : If you could smoke with anyone on this planet, living or dead, who'd that be and why?
Gillian : Hmm, that's a tough question. I think I would like to smoke with one of the enlightened buddhas, although they probably don't need the help of cannabis. But it would be fascinating to have the opportunity to sit down with someone so wise and spiritually enlightened!
---
BLITZ:
Why was weed made illegal?
So that big business in America could crush the competition when they invested in timber instead of hemp farms. Also because Harry Anslinger, who ruled over the Federal Narcotics Bureau for more than three decades, and contributed significantly to the inception of the prison industrial complex. He was extremely racist and hateful. So I think it was a combination of racism and corporate greed that made cannabis illegal.
---
Will weed be legal federally?
More likely it will be decriminalized, at least in the near future.
---
Does weed help with cramps?
Very much so!
---
Does weed help with pain? 
Yes, it is extremely helpful for pain. That is what GW Pharma created the pharmaceutical drug Sativex for.
---
Many people report that cannabis is very effective for various kinds of headaches, including migraines!
---
Does weed help with depression?
100%, but again, you need to find the right strain. Many people with depression can find that THC may exacerbate depression, while CBD can be very helpful to reduce depression. But that is not true for everyone, so it is a matter of doing some experimenting or speaking with an experienced practitioner that can help guide an individual to the right product.
---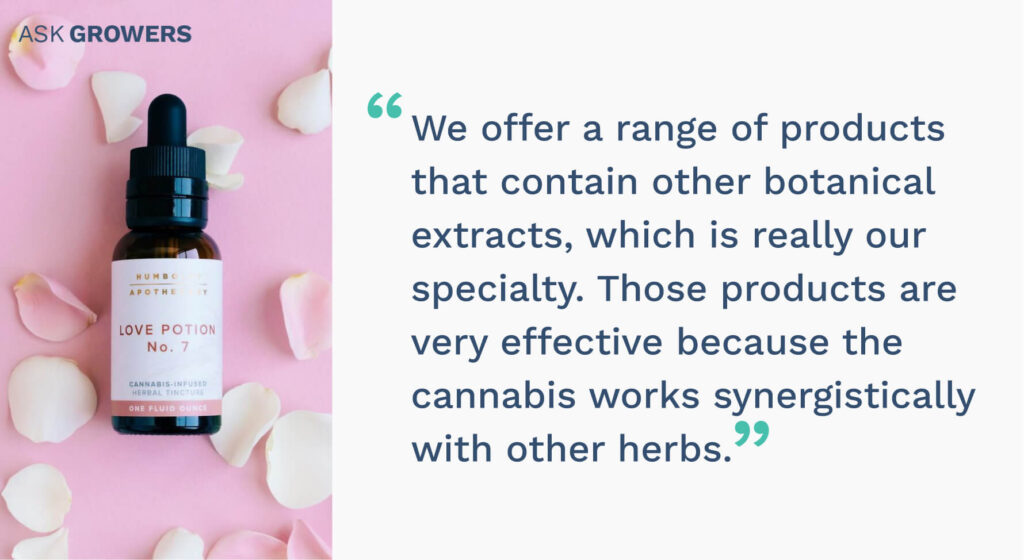 ---
It depends on the strain.
---
THC may exacerbate seizures for some individuals. It can also help to stop or minimize seizures for a number of people. These questions don't have simple answers because the endocannabinoid system is a complicated physiological system in the body and everyone is going to respond to the complex range of compounds in the cannabis plant differently.
---
I'm an Indica person.
---
Why should weed be legal?
It's a plant for goodness sake. It's highly therapeutic and extremely safe. Plus, in states where it is legal, drug and alcohol abuse may actually drop. Some people would argue that access to cannabis is a human right, like access to clean air and water.
---
You can follow Humboldt Apothecary at:
Facebook: Humboldt Apothecary
Instagram: @humboldtapothecary
LinkedIn: Gillian Levy
---